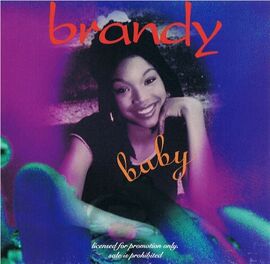 Baby is the second single from Brandy's self-titled debut album.
The single was released on December 24, 1994. The song was written by Keith Crouch (who also produced the song), Kipper Jones & Rahsaan Patterson.
The song spent four weeks on top of the Billboard Hot R&B/Hip-Hop Songs chart. It also reached number 4 on the Hot 100 and the New Zealand singles chart and number 16 in Australia.
Song Background
Edit
The song was conceived within a few days only. It was created during additional songwriting sessions with Rahsaan Patterson (who Keith Crouch had work on several songs for Brandy's album).
Rahsaan commented about the production process in 2011, stating:
"I remember going over to his [Crouch's] house for two nights in a row and from the first night that he wanted to play the track for me, I heard what I heard, but I kept it to myself because I was pretty much intimidated thinking he would think it was horrible. Then by the third day, he was like "We've got to turn this song in by Friday, so whatever you think of, just sing it!" So I sang to him what I had heard instantly when he played it and he was like "Man you've been sitting there holding that!"
Most of the background vocals and instruments were recorded in one of Keith's bedrooms.
Upon hearing the demo track, Norwood applauded the song for its "flavor and soul."
During recording, Brandy was reportedly inspired by her idol Whitney Houston vocally, "I wanted to be exactly like her musically!" she said.
Music Video
Edit
The accompanying music video was directed by Hype Williams and filmed in the middle of Times Square in New York City in December of 1994.
The choreography was handled by Fatima Robinson.
The music video portrays Brandy and her company dancing at the "The Great White Way" wearing skiing outfits.
She wears a big white jacket & thin, white leggings complete with a white hat and black shades. The back up dancers are dressed in white too.
The next cut shows Brandy wearing pink in a pink room & Brandy singing into a microphone in a dull coloured room.
She is later seen dancing with people in the same room with the rest of the video containing similar cuts.
Brandy commented on filming the video that:
"All these people were passing by and were like 'Who's this girl on stage in the middle of Times Square?' I had a great time shooting the video. I could just feel myself really starting to open up, really come out of my shell and find myself as a young artist."
Critical Reception
Edit
Met with generally positive reviews from contemporary critics, "Baby" was nominated for a Grammy Award for "Best Female R&B Vocal Performance" at the 1996 Grammy Awards.
Community content is available under
CC-BY-SA
unless otherwise noted.