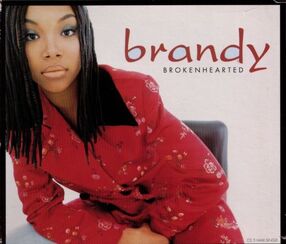 Brokenhearted is the last single from Brandy's self-titled debut album.
The single was released on August 22, 1995. The song was written by Keith Crouch (who produced the song) & Glen McKinney.
The song's chorus contains an interpolation of Loleatta Holloway's song "Cry To Me."
The remixed version of "Brokenhearted" was produced by Soulshock & Karlin and featured Wanya Morris (the lead singer of R&B group Boyz II Men).
Song Background
Edit
The album version of "Brokenhearted" was recorded in a single take.
Brandy remembered during the release of "The Best of Brandy" in 2005:
"There's a funny story behind the recording of that song! I really wanted to go to Six Flags but the producers kept saying, 'only after you finish recording!' I sang my heart out...I wanted to go to Six Flags so bad! You can hear the passion in my voice!"
The idea for a duet version of "Brokenhearted" originally came up while Brandy was on a two-month stint as the opening act on Boyz II Men's national tour in early 1995.
Both artists were on the airplane on the way to another city when Wanya got his hands on a copy of Brandy's debut album.
Wanya told MTV News the following year:
"I was listening to her album on the plane and I was like, 'Yo, we should do a duet of 'Brokenhearted."
Music Video
Edit
The music video for the single was directed by Hype Williams and filmed inside the Oheka Castle in Spring Hills, New York.
Hype picked the castle because the owner was willing to let them ruin the floors and the walls with water & paint to out the video treatment into practice.
During the shooting of the video, Brandy told MTV:
"It's basically a dream, because of course this is not reality. I can't afford a mansion right now, so it's like I fall asleep and I dream about doing a duet with Wanya and I'm in this big mansion wearing these grown clothes, big beautiful Whitney Houston-type clothes."
Since the water was on the floor, the crew had to wear boots during filming.
Actor Donald Faison makes a cameo appearance in the video.
Commercial Performance
Edit
In the United States, "Brokenhearted" peaked at number nine on the Billboard Hot 100, becoming Brandy's third domestic top ten hit.
Song Sampled
Edit
Rapper Fabolous sampled the track in his song "Makin' Love" (feat. Ne-Yo).
Recording artist Danny!'s instrumental "God Bless the Child" samples the song and the song "Cry to Me."
Community content is available under
CC-BY-SA
unless otherwise noted.