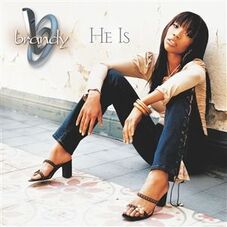 He Is is the last single released from Brandy's third studio album "Full Moon."
The single was released on September 17, 2002. The song was written by Warryn Campbell, Harold Lilly & Brandy and produced by Warryn Campbell & Brandy.
The song was conceived during spiritual discussions with Brandy, Warryn and Harold conceptualized the pop- and R&B-influenced ballad secretly as a soul song as they were keen to hear her sing a religious track (a genre which Brandy declined to record at that time).
Lyrically speaking about God in third person, Brandy was unaware that "He Is" was not a relationship song when she recorded her vocals for it.
Song Background
Edit
Producer Warryn Campbell met Brandy at the age of fifteen when he started playing keyboards in her live band.
He left the band two years later to pursure a career in music production. In 2001, they reteamed in 2001 along with songwriter Harold Lilly to collaborate on Brandy's third album."
During the first month that they worked together, they discussed spirituality.
Brandy (who was raised in a Christian household) read a lot of religion and spiritual texts at that time, but while conversations prompted Campbell to ask Brandy to record a gospel song, she declined to.
Determined to get Brandy to sing a gospel song however, Warryn convinced Harold to craft a song which would speak discreetly about God in third person.
Even though Brandy joined them later for additional writing on the track, they kept the initial meaning of the song a secret until its single release.
In an interview with Yahoo! Music in August of 2002, Warryn revealed:
"I've never told [Brandy]. She still don't know. She thinks it's about birth. And I wanted her to sing it like it's about birth. That gave it that push. She has probably figured it out by now."
Music Video
Edit
Due to her pregnancy at the time, Brandy was unable to promote the single or film a music video for the song.
Commercial Performance
Edit
Commercially, "He Is" failed to match the success of "Full Moon"'s previous singles "What About Us?" & "Full Moon."
The song failed to make the Billboard Hot 100, but managed to chart at number 78 on Billboard's Hot R&B\Hip-Hop Singles & Tracks chart.
Critical Reception
Edit
In Billboard magazine, Chuck Taylor wrote that:
"the slow jam offers a sensual groove, with the sparse production leaving ample room for a vocal spotlight". He however noted, that "unfortunately, the track prioritizes style over melody, and the simple chorus – using only three notes – does not include much of a hook. The cut certainly makes for good music, fitting for quiet-storm shows, but as a single, it would have a hard time standing out on radio."
Community content is available under
CC-BY-SA
unless otherwise noted.